As A Scrum Ambassador
We envision a world where agile expertise is widely available
to people in all countries, languages and industries.
we live the Agile mindset by uncovering better ways and helping others to do the same, so we lead by example and inspiration.
we emphasize the why behind the how, so people can figure things out for themselves.
we treat Scrum not as a dogmatic prescription but more as a reference implementation to build on, so people can make further improvements without fear.
we consider Scrum not a ruleset to follow but a series of opportunities to ask powerful questions, so people can build on the guidelines.
we negotiate changes that are in mutual interest to increase the likelihood of success.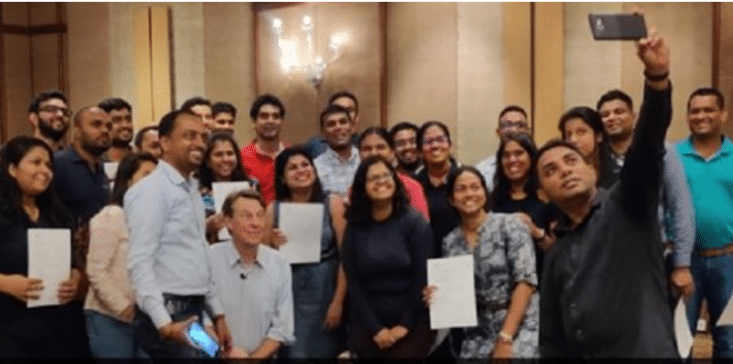 Our mission is to help agile practitioners achieve mastery in their chosen field.
We do this by living the mindset, by creating structured and peer-to-peer opportunities to learn, solve challenges and grow, and by recognizing and celebrating people's achievements on their agile journey.
We strive to:
Develop Agile trainers, coaches and business leaders around the world!
Apply the Agile mindset to ourselves and our own work to satisfy the highest standards in the industry!
Enable high-performance, responsive and flexible organizations!
Would you like to be a Scrum Ambassador?
We currently offer the following 3 different levels of certification:
Certified Upcoming Ambassador ("SA-CUA")™
As an Certified Upcoming Ambassador, you have started your agile voyage. You understand the basics of Scrum and Agility, in particular the whys behind the important values, principles and practices. You'll be effective and efficient using Scrum and Agility in your work.
Certified Recognized Ambassador ("SA-CRA")™
As a Recognized Ambassador, you are well on your voyage to become a top-tier Scrum trainer, coach or consultant. Scrum and agility are a focus of your career. You collaborate with other Ambassadors to improve your own skills. You want to live the agile mindset to become ever better at what you do.
Scrum Ambassadors Licensed Trainer ("SA-LT")™
As a Scrum Ambassadors Licensed Trainer, you have demonstrated your ability to share your passion for Scrum and Agility to others. You can succinctly and convincingly answer why questions about Scrum and Agility and how they apply in context. You are seen as a valuable partner for executives as they strive to transform their organizations.
Your steps to become a
Certified Upcoming Ambassador
Initial Scrum Ambassadors Training

Learn how Scrum works, why Scrum works and the basics of doing Scrum. Can be accomplished in class or through on the job training.

Coaching & Certification

Complete the coaching program, then submit your application with your case study/experience report. You are now a Certified Upcoming Ambassador!

Advanced Scrum Coaching Workshop

Learn to how to carry out your mission as a Scrum Master in a workshop lead by a SA-LT.

Join an Upcoming Ambassadors Circle

Continue to develop your skills and abilities by uncovering better ways yourself, helping other Scrum Ambassadors and being helped by them!
Your steps to become
a great Scrum Trainer
Membership is open to anyone who meets the criteria. We are particularly looking to encourage talented trainers in countries and regions that do not have top level certified coaches and trainers from the established organizations.
Qualify

for Recognition as a SA-CRA

Apply

for Recognition as a SA-CRA

Join

become a SA-CRA

Develop your skills

Demonstrate your skills

You qualify!

You can now be a SA-LT! Scrum Ambassadors Licensed Trainer.

Train and Coach Upcoming Ambassadors

You can earn your living as a SA-LT You continue to develop your skills with other SA-CRAs and SA-LTs